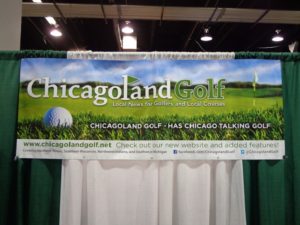 BRENDAN SWEENEY the French Lick Resort Director of Golf Marketing in the French Lick Resort booth, visit French Lick Resort at Frenchlick.com. Chicagoland will be the Chicago Golf Show program creator for this years show Feb. 24-26 held at the Donald Stephens Convention Center in Rosemont, pick up your free glossy copy at the show.    _____________________________________________________________________
(French Lick Ind.)
NO IT'S NOT tournament week yet for the brand new Sr. LPGA Championship at the French Lick Resort.But the FLR is a great pace to start the winter road trip.
The trips ends up in Florida at next weeks PGA Merchandise Show in Orlando, and then makes the rounds in a few southern states (golf rounds that is).
French Lick Resort doesn't have it's golf courses open on this 48 degree day here, but with this weekend expected to be close to 60 here, the resort might have to think about opening one of them. Around the 4th of July French Lick Resort is going to be a hot spot to be. The temperatures will be warm, but the tournament action from the Symetra Tour and LPGA Legends Tour should be exciting.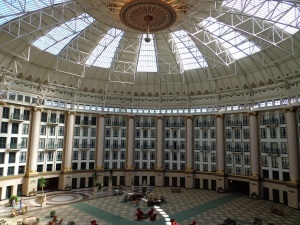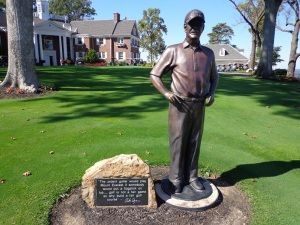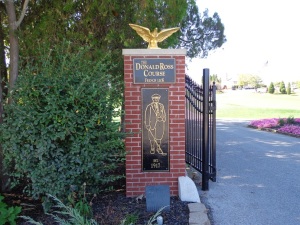 The West Baden Hotel, Indiana's very own Pete Dye and the famed Donald Ross have all made their mark on the town of French Lick, that at one time was better known for a basketball player who went on to have NBA fame. See frenchlick.com.
The French Lick Resort has a great old time Tom Bendelow course, yes that Tom Bendelow who made his name in Chicago building courses at Medinah. There is the Donald Ross course, named for the famed architect who created the course here that held the 1924 PGA Championship.
World Golf Hall of Fame architect Pete Dye Indiana's very own designed the course here that carries his name. The Dye Course known for it's views of up to 40 miles on clear days, is a challenge all golfers need to enjoy at least once in their career. Many that have played it, come back for a rematch at least once.
The resort will be bringing in the media before the new championship this summer for a look, I'll be back then to take a closer look at the courses, that are a little cold and wet today.
French Lick resort is also known for it's casino for those of you who want to play. It can be a great place to have some fun, who knows it might even fatten your wallet enough so you can enjoy a few meals on the house. Wink-Wink.
With that it's off to Pinehurst to see Donald Ross, Payne Stewart and a few other people who enjoy the game. It will be in the mid-60's and the courses, all 9 of them at the resort are open. So is the new sports bar Dueces right behind the 18th hole on course No.2. Pinehurst.com. See You there…RS