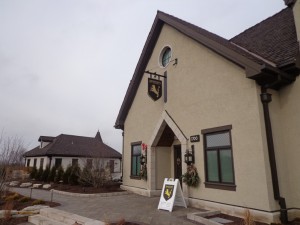 THE HALFWAY HOUSE in Elmhurst is your place for simulator golf. Located at 555 S. York Road next to HB Jones, the Halfway bring a variety of options for golfers. Take lessons, play in leagues, play over 90 courses world wide, and enjoy the various daily specials, call (331)-642-8050 to book your tee time today., MCWETHY'S TAVERN is now open year round even when Mistwood golf Club is closed, the restaurant and Great Hall are getting busy as the secret of this location is getting around. McWethy's mixes a golf and fine dining atmosphere that makes any meal enjoyable. Doesn't hesitate any longer get to McWethy's Tavern at Mistwood Golf Club on Renwick Road in Romeoville, see Mcwethystavern.com for more information. LINKS & TEE'S on Lake Street in Addison is a year round award winning golf facility, and right now the Golf Dome is open until the outdoor course and range open for the summer. For more information on Links and Tee's call (630)-233-7275 or see Addisonparks.org. Links & Tee's enjoy year round. ______________________________________________________________________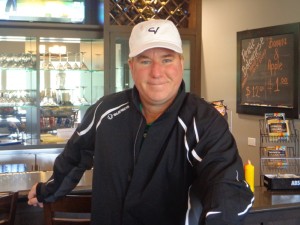 THE NEW BOB VOKEY SM6 WEDGES (L), The Gog Blog by Rory Spears, Editor and Director of Content. Follow Rory on Facebook, Linkedin and Twitter @GogBlogGuy. In the Sunice Typhoon Outerwear Jacket at the Glenview Golf Club in Glenview.                 ______________________________________________________________________
As Bob Vokey himself will tell you, the SM6 line of Vokey Wedges (Now available) is yet another level higher than what Vokey has produced in the past.
SM6 improves your return in all of the areas golfers demand results from their wedges, distance and spin, while filling in the gaps of the yardage you need.
The rank and file of the PGA Tour has already made the Vokey SM6 wedges the most played wedges on the PGA Tour.
Vokey will tell anyone who asks that he has the best lab in the world to create his lines of wedges, he calls it the PGA Tour.
If there is one club maker in the world who really does his research at the golf course and monitors the feedback of the worlds greatest players, it's Vokey.
While the guys on tour stake their livelyhood on Vokey, quite often it's the amateur golfers that benefit the most. Vokey's attention to detail helps the non pro's escape the rough, the bunkers, and gives them a chance to spin it in close to pins that would seem to hard at first glance, to land an approach shot into easy birdie or par range.
The new SM6 wedges give the golfer precise distance control, enhanced shot versatility, maximum spin and superior feel.
Titleist and Vokey say that a new Progressive Center of Gravity design is aligning with the impact position of each loft to provide precise distance and trajectory control with exceptional feel.
LOW LOFT- 46/52 degrees. SM6 models have a low CG that increases ball speed 1,5 MPH and 3-5 yards. This technology is hightend by a thinner topline and raised lower section.
MID-LOFTS 54-56 degrees. These clubs have a mid CG position, that are aligned between low and high lofts. Titleist says they provide precise distance gapping.
HIGH-LOFTS 58-62 degrees. These wedges have a high CG position that creates tighter distance dispersion, along with better trajectory control and a better feel. The technology aligns with an impact position that is higher on the face of the club, and the club is highlighted with a raised upper section of the club.
All of the SM6 grinds (L,M,S,F,K) are now in play across professional tours worldwide.
The new TX4 Spin Milled grooves and face texture deliver more spin (on average up to 200 rpm more spin). The new TX4 wedges, are designed with a machine milled, parallel face texture, which allows for a more consistent groove edge.
The results on the PGA Tour have shown up immediately. 74 wedges went into the bags of PGA Tour players the first week they were available on tour in October of 2015.
By January at the Career Builder Challenge the number was 138, which was won by Jason Duffner who switched to 3 SM6 models that week.
World #1 Jordan Spieth put 4 SM6 wedges in his bag at Kapalua Maui to win the Hyundai Tournament of Champions.
"These are the best wedges we've ever made," Vokey said. "Our engineers have taken everything I've learned in working with our tour players, PGA Pro's and amateurs over the last 20-plus years, everything (Vokey Tour rep) Aaron Dill has learned from being on tour week in and week out, and brought it to life with technology that will help golfers at every skill level of the game. SM6 is really the total package."
Vokey SM6 wedges are available in golf shops at $149 MAP and $169 MSRP. For more information see Titleiest.com or visit Vokey.com.