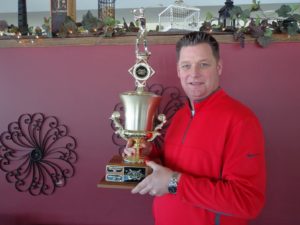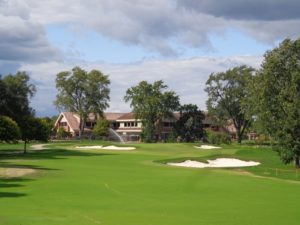 CHAD JOHANSEN the general manager and head golf professional at Blackberry Oaks Golf Club in Bristol, holds the Blackberry Amateur Trophy. The Blackberry Amateur will be played this weekend June 23-24. You can still sign up, by calling the pro shop at (630)-553-7170 or visit Blackberryamateur.com. THE SCHAUMBURG GOLF CLUB is ready to reopen the Players Nine from renovation on Saturday June 30th, tee times are being taken now, call the course at (847)-885-9000, the new putting green will also open on June 30th and while at the club you can dine at Chandlers Chop House.    ______________________________________________________________________
THE HYPE AND BUILD UP ARE OVER, so is the 118th U.S. Open at Shinnecock Hills, and now it's on to Pebble Beach in 2019.
Brooks Koepka, successfully defended the U.S. Open title he won at Erin Hills in 2017. He is the first back-to-back winner since Curtis Strange in 1988 and 1989, Strange's run came to an end at Medinah in 1990.Will Koepka's come to end at Pebble Beach.
WHAT AN OPEN ! whether you liked it or not, what went on all week has left people talking.
PHIL AND TIGER, it started with them, and the experts and bookmakers both giving them a chance to win. As it turned out, neither really had a chance, even though "Lefty" shot two of his four rounds under par. Phil's exploits on Saturday left much to be desired, even though he had an interesting commentary on his actions to hit a moving ball on the 13th green. The fact he had been thinking about it for some time was interesting, and was it a protest to course set up by the USGA. Perhaps. Personally is it necessary that if a player putts a ball a few feet past the hole on those hard-rock greens that it should end up in a deep bunker, in the fairway 40 yards from the green, or even over in deep rough or fescue.
I couldn't believe the amount of people crying to DQ him, seriously your life or golf game will be affected if Phil doesn't get DQ'd on his birthday. For all those saying Phil's legacy takes a big hit with the New York fans or golf fans in general, relax, how could you not love the guy after his amazing par on 13 on Sunday, that left him looking like Rocky, classic stuff. BTW, according to the USGA, Phil did not violate Rule 1-2 that would have left him DQ'd. Two shots is enough in that situation. I hope he wins the British or the PGA just to shut a few folks up.
TIGER, was done after he tripled the first hole. Some of the FOX folks kept acting crazy about him, and even saying 10 over was going to make the cut, they were hoping it would. But the golf world knew differently, and enjoyed the weekend without him so we saw more players, and more real golf action. For all those outlets that gave us pictures of his yacht arriving in New York, how come we didn't see it pulling out on Friday night and heading back to Florida. Credit to Paul Azinger for saying Woods is nothing but an average middle of the pack player around the greens these days. Bingo!  In spite of that the USGA ruined the top pairing by adding Woods ranked #80 with world's #1 and 2 Dustin Johnson and Justin Thomas. When it should have been OWGR #3 or the defending champion Koepka.
NOW the USGA could face a dilemma, yes another one. Woods exemption into the U.S. Open is over, unless he wins the British Open, the PGA, or the Fed Ex Cup, will they make him go through qualifying or give him a free pass into Pebble Beach. There was no free pass for Steve Stricker into Erin Hills, none for Retief Goosen who actually won at Shinnecock in 2004, for this year. Make Woods go to qualifying.
IT WAS NICE TO hear Joe Buck get one thing right, his compliments for Shinnecock superintendent Jon Jennings, our former guy in town here at the Chicago Golf Club. Jon and his crew did a wonderful job making SHGC look great on TV.
THE USGA with it's course set up is usually living on the edge, and on Saturday things got away, of course with the help of Mother Nature Thursday was a rough go as well. On Sky Sports Zach Johnson on Saturday said after his round the USGA had "lost the golf course", other players agreed. But as one veteran scribe said, "how do you lose a golf course, most courses are pretty big and they are stationary."
THE QUESTION being raised by several talking heads is that, should the USGA be the folks who should run the U.S. Open, that maybe the PGA Tour or PGA of America could be involved, or even the R&A, Is Kerry Haigh the PGA set up guy, somebody who could be in charge instead of the Mike Davis team. Does the USGA go too far in set up to "protect par", that there is no room for error. It seems that way at times and it's something the USGA has to review. But in defense of Davis, for all those who thought last year was too easy, and Koepka's score should never win the U.S.open, now it's back around par, and the same people aren't happy. You just can win if your the USGA.
AS FOR ME, I think if a handful of players are under par, it's no big deal. I'd like to see about 10 players break par, with a winning score of about 4-5 under par. if the USGA can set things up that way, it would be a winner.
FOX TV still has several years left on it's deal with the USGA, which is too many for some folks. The biggest issue is Joe Buck being the lead announcer, I'm not Buck's biggest fan, but he is better than Dan Hicks. I think Azinger, along with Gil Hanse do a great job, and I thought getting  Strange involved big yesterday was solid. From a tech standpoint, Fox is getting better and making things work, but the leaderboard needs to show more names more often.
I WAS NOT pleased to see former Illinois guy Dylan Meyer get so little if any coverage over the weekend, he and Stricker were more or less shut out. Stricker only got mentioned because he has the longest cuts made streak in the major championships in all of golf, and he was playing with the amateur Matt Parzaile who is a local fireman, and he tied for low-amateur.
BRANDEL CHAMBLEE tee'd up the USGA, suggesting there is no leadership at the top, and I'd like to think that Davis deserves better than that. I'd like to hear what Davis has to say about that. I have been trying to get him on our radio show for years and the USGA usually gives me a reason on why it has not been possible, but the USGA has promised that he will join us in advance of the U.S.Sr. Women's Open. Based on the last week, we will see if that holds true. Stay tuned.
LOCALLY, I sent best wishes to the 11 Illinois PGA Section members who headed west to the Bayonet Black Horse course in California, to compete in the PGA Professional Championship, where the top 20 finishers from a field of 312 players get to play in the PGA Championship at Bellerive in August.
The 11 professionals are, three-time winner of the event Illinois Golf Coach Mike Small, Adam Schumacher of Indian Hill, Jim Billiter of Kemper Lakes, Simon Allan of Flossmoor CC, Kyle Bauer of the Glen View Club,  Doug Bauman of Biltmore, Brain Carroll of Royal Hawk, Dakun Chang from Twin Orchard CC, Connie DeMattia of Cantigny Golf, Chris Green of the Glenview Club, and Brett Walker of Conway Farms GC.
Round 2 now underway and Carroll, Small and Chang are the top 3 of our IPGA group in the standings and they have a chance to make today's cut, that lowers the field to 90 players.
THE GOG BLOG RETURNS on Wednesday. RS