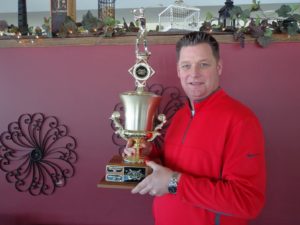 BLACKBERRY OAKS GM and head golf professional Chad Johansen, invite you to tee it up in the Blackberry Amateur on June 23-24. The BB-AM now in it;s 8th year is out to Fill The Field this year at 120 players. To sign up visit Blackberryamateur.com or call the club at (630)-553-7170. CHICAGOLAND GOLF PUBLISHER VAL RUSSELL invites you to pick up the June issue out next week, Available at public courses and golf stores.        ______________________________________________________________________
THE OLYMPIA FIELDS COUNTRY CLUB the flagship golf facility on Chicago's Southside, has made a major shift on how it's golf courses will look going forward.
The club has hired architect and classic golf course restoration specialist Keith Foster to create a master plan for both the North and South Courses going forward. Foster will start work in three months at Olympia Fields.
Olympia Fields had been using Mark Mungeam on it's North Course, and Steve Smyers on the South Course. Foster who currently only takes on two projects a year, is working at Congressional Country Club in Washington DC, and is working on his modern era project, The Harvester in Rhodes Iowa, which is already shut down for the year in 2018. The Harvester that opened in the year 2000, has been on many Top 100 lists since it opened. It is expected to go from a public course to private course in the short future.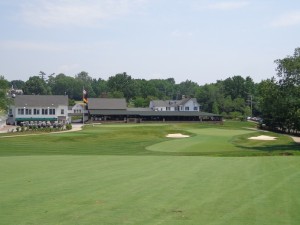 ARCHITECT KEITH FOSTER (L) and the 18th hole on the Wissahickon course at the Philadelphia Cricket Club near Philadelphia, a Foster restoration that earned rave reviews and high ratings from various publications. It sits in the Top 100 Classic Courses in Golfweek Magazine.
Foster who did restoration work at the Omaha Country Club about ten years ago, that helped OCC land the 2013 U.S. Sr. Open, is back working there again in advance of the clubs next U.S Sr. Open in 2021.
During a phone interview with Golfers on Golf Foster said, "I'm delighted, humbled and grateful to be working with Olympia Fields and with the clubs great history. I am so pleased to be selected over the other great architects the club spoke with about the project."
Foster had 11 courses on Golfweeks Top 100 Classic Courses list one year ago. Foster expects to be back on site at Olympia Fields later this summer.
Olympia Fields hosted the 2017 KPMG Championship Women's PGA Championship last year and is looking for more major championship golf to come it's way in the years ahead.
In Illinois Foster is known for his work at Shepherd's Crook in Zion, Highlands of Elgin in Elgin and at Knollwood Country Club in Lake Forest.
Golfers on Golf will continue to follow this story as it develops.