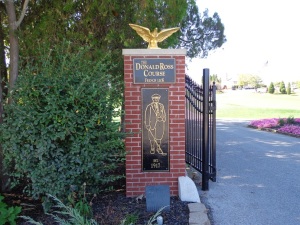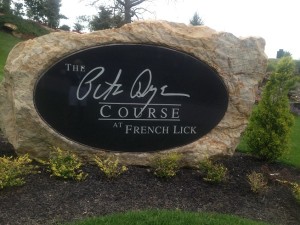 THE COURSES OF THE FRENCH LICK RESORT ARE OPEN-however the rooms, the spa, the casino, and restaurants of the resort are closed. Full details at Frenchlick.com   _____________________________________________________________________
CANCELED OR POSTPONED
THE USGA and it's championship schedules, are being forced into changes like everyone, due to the threat of the Covid-19 Virus.
The latest changes to be announced came this past week, with the delay of the U.S. Women's Open and the Curtis Cup Matches.
The. U.S. Women's Open has moved on the calendar only from June 4-7, to December 10-13.
But the championship will still be held at the Champions Golf Club in Houston Texas.
The championship will be held over the clubs two courses, much like the format used during U.S. Amateur or Mid-Amateur play.
This because of the shorter window of daylight during the month of December.
"The USGA remains committed to hosting the U.S. Women's Open in 2020," said USGA CEO Mike Davis. "We are grateful to the LPGA and our broadcast partner Fox, for their terrific collaboration in finding a new date for the championship. Our priority remains ensuring the safety of all involved with the U.S. Women's Open, while still providing the world's best players the opportunity to compete this year."
The Cypress Creek Course will be used for play in all four rounds, while the Jackrabbit Course will host play in Rounds 1 & 2.
U.S. Women's Open qualifying will be held on rescheduled dates, and the USGA is still reviewing how exemption categories will be affected.
"We are incredibly thankful to Champions Golf Club for it's flexibility and support during this uncertain time," said Davis. "The club led by Jack and Robin Burke, has been such a great friend of the USGA for some time, stepping up in 2017 to host the U.S. Women's Amateur on short notice after it was displaced by a hurricane, and now accommodating a significant schedule change for our premier women's championship, not to mention letting us use both golf courses. We're confident the combined efforts will lead to an incredibly special 75th U.S. Women's Open."
Champions Golf Club was founded in 1957 by World Golf Hall of Fame members Jimmy Demaret and Jack Burke Jr., who currently serves as president. The Cypress Course designed by Ralph Plummer first opened in 1959, it has hosted 4 previous USGA Championships, the 1969 U.S. Open, 1993 U.S. Amateur, 1998 U.S. Women's Mid-Amateur and the 2017 U.S. Women's Mid-Amateur. The Jackrabbit Course was designed by George Fazio, it opened for play in 1964.
THE 2020 CURTIS CUP that was scheduled for June 12-14 at the Conwy Club in Wales, has been rescheduled for the Conwy Club in 2021. Sarah Ingram USA and  Elaine Ratcliffe GB&I will remain as team captains. Currently Team USA leads the all-time series 29-8-3.