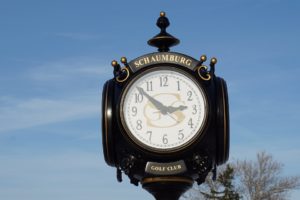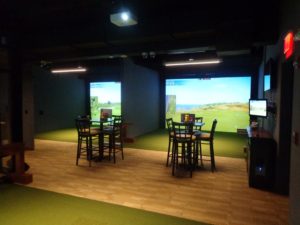 TIME HAS RUN OUT-says the new clock to golf outside at the Schaumburg Golf Club, but the simulators are open for the winter golf season. New courses for the fall season include Bethpage Black on Long Island, and the Colorado Golf Club. Simulator hours are from 9 Am to 8 Pm, with Chandlers Chophouse right upstairs now open at 4 Pm. If your in need of a holiday gift for yourself or favorite golfer. The award winning pro shop is stocked with golf apparel including longsleeve shirts for the cooler days ahead. You can book simulator times at (847)-885-9000 or more details at Schaumburggolf.com.      _____________________________________________________________________
**TINLEY PARK GOLF SHOW RETURNS IN 2020-FEB. 7-8-9 AT THE TINLEY PARK CONVENTION CENTER. OPENS AT NOON ON FRIDAY. VISIT THE TPCC WEBSITE FOR INFORMATION ON TICKETS.**
SO THE HOLIDAYS ARE CLOSING IN, and it's almost time to start shopping for everyone on your gift list.
Black Friday is right around the corner, and some places are running Black Friday sales in advance of Black Friday.
Eagel Ridge Resort in Galena, started it's Cyber Monday Sales today. Of course right behind Black Friday is Small Business Saturday, an then the Cyber Mondays on a large scale.
So today to get a bit of a jump on things, is our GOG third annual column about holiday shopping for the golfer. Maybe it's you the golfer that needs things, and if you get armed with cash or gift cards, what should you do. Where should you go, what should you buy. If your buying for another golfer and your not sure what they really need, don't just guess. Save everyone the time and hassle upfront by making the best possible purchase.
WHAT TO GET…find out what they need, from them, from their regular playing partners, from their pro, or from what you see. From the courses they like to play at, can you sneak a peak in their golf bag, to see what kind of clubs they play, golf balls and golf gloves they use. Did they get soaked the last time it rained on them while golfing, because their umbrella is too small or bent. Are those golf shirts looking long in the teeth, well time for new shirts, caps, pants and even shoes and socks.
IF YOUR THINKING CLUBS- DO NOT, just go buy them off the rack in the store and stick them under the tree. That, is a disaster waiting to happen, even if you know what brand to buy. If your favorite golfer wants to do that-let them. But like a car, test drive or hit what your going to buy. Do get fitted or get some numbers on Trackman or SAM Putt, when you test hit the clubs. It's always a good idea to try different brands, lofts and weights.
If your favorite golfer is not ready for new clubs, they might just need to be regripped, always a good gift option. You do not need to buy a full set, so don't scared off by prices. You can just buy a driver, 2 fairway woods or a hybrid. Wedges are cheaper, or just a putter. You can get top of the line putters for $350 or $400, which is a great gift and beats a $1,000 or more spent on a full set of irons or woods.
BUYING GIFTS FOR GOLFER DOES NOT ALWAYS MEAN CLUBS. Whether it's a man or a women, or a junior golfer there are other options. Golfers can always use golfballs, if your buying balls make sure you buy the right brand, and type of ball. Golf gloves and not outdoor gloves for when it's cold, but for grip. Many companies make gloves, make sure you get the right brand, and for the right hand-or right or left hand.
APPAREL-there are plenty of options here. Shirts, long or short sleeve, or vests. Pants or Shorts. Shoes and Socks, there are several types of golf shoes, including with or without spikes. Socks are getting stronger and reinforced in traditional ware spots for longer life. Caps or visors. Jackets or all-weather suits, there is newer materials that allow for a better swing when wearing them. They breathe better so you don't get too hot on warm days, when dodging the rain drops.
ACCESSORIES, include pull or push carts. Golf bags, or head covers for the clubs. A water or drink bottle, to bring your favorite beverage, needed beverage, or energy drink to the golf course. Always a good idea, if your favorite course does not sell your needed beverage.
THE GIFT CARD-never a bad idea for any golfer. Most facilties and golf stores have them. So do resort destinations. If your looking for a getaway, even if you don't golf. Why not join your significant other at a nice resort, he or she can golf and you can shop, enjoy the pool, the spa, or casino. I golfed with a couple from Chicago in Kohler at Blackwolf Run, because their kids got them a gift card to go there. So they did and they were having a blast.
LESSONS-never a bad idea with your local Illinois PGA professional or a golf school at a resort. Yes pro's will sell gift cards for a single lesson or series of lessons.
WHERE TO BUY..you can do it in person, always the BEST IDEA, or online or over the phone as plan B or C. You can go to golf courses, golf retail stores, resorts, practice and fitting facilties, or sporting goods stores.
Golfers on Golf will be sharing idea's through the holiday season right up to December 25th. So stay clicked in, if you need ideas.
CLOSING THOUGHTS-top wedge designers Roger Cleveland of Callaway and Bob Vokey of Titleist both have new wedges coming out-our stories this week.
HAPPY 30th Anniversary to the people of the video game The Golden Tee, still here and it keeps improving.
NICE SHOOTING ARCHITECT GIL HANSE, on his second hole-in-one this year, on his short par 3 course "The Cradle" in Pinehurst. Visit Pinehurst.com for winter specials.
TIGER…been a tough couple of weeks for the Captain of the USA Presidents Cup Team. First he picked himself for the team, and caught some flack for doing it. Got razzed by Kevin Kisner on social media for leaving Kisner off the team. Got called out by Presidents Cup team rookie opponent Abraham Ancer, who said he wants Woods in a match. Woods got scolded for dropping the F-Bomb while live on Australian Radio.
The good news for Tiger, is that his Payne's Valley course design at the Big Cedar Resort near Branson Mo., is coming in nicely and should be a top new play in 2020. My story on Big Cedar Resort and PV-runs in this months CDGA Magazine, see Cdga.org to give it a look.
The Gog Blog returns this week. RS